Drugi problem, na który natrafiłem przy instalacji serwisu WCF na IIS brzmiał
This assembly is built by a runtime newer than the currently loaded runtime and cannot be loaded.
Co w tej sytuacji zrobić. Okazuje się, że tym razem sprawa jest dużo prostsza niż w przypadku poprzedniego błędu. Tym razem wystarczy nieco namieszać w ustawieniach pól aplikacji serwera IIS. Problem polega na tym, że póla, w kontekście której uruchamiana jest usługa, działa w oparciu o niewłaściwą wersję .NET Framework. W moim przypadku ustawiona jest wersja 2.0, natomiast udostępniana przeze mnie usługa wymaga wersji 4.0. W związku z tym najwygodniej jest utworzyć w panelu zarządzania pólami aplikacji nową, na przykład o nazwie .NET 4 i w ustawieniach zaawansowanych wybrać odpowiednią wersję .NET Framework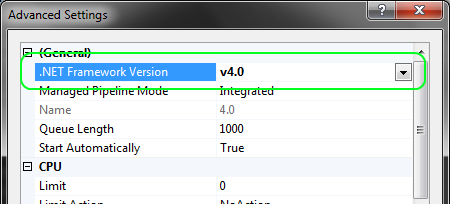 Kolejnym krokiem jest wybranie dla naszej aplikacji nowo utworzonej póli z właściwą wersją Frameworka i gotowe.